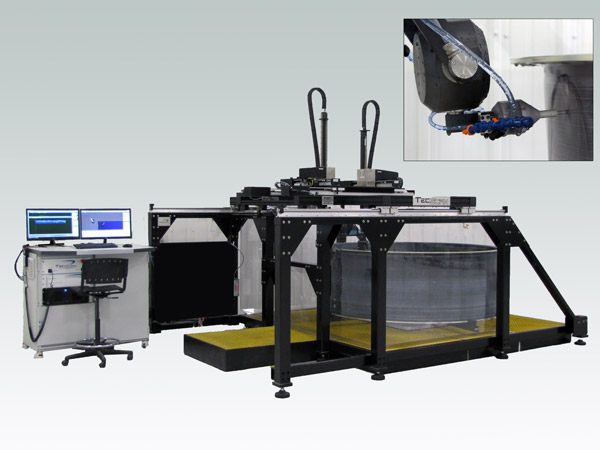 Composite Fan case inspection solution
Turbofan engines are normally equipped with a fan case that will contain the fan blades. These fan cases, metallic on older generation engines and composite on newer generation, are intended to enclose the fan and shield the passengers and aircraft in case of blade out accident. Because of safety and reliability requirements, these fan cases must be inspected for any manufacturing anomalies/defects.
Once the fan case is placed in the Scan3D™ scanner the CAD module is loaded to auto-calibrate the scanner and to confirm the fan case position. Using the interactive tools provided by TecView™ 3D for part entry, the user can define the scan surfaces and performs a complete 3D scan of the case. During the scan, the 3D trajectories are displayed on inspection screen with the animated Gimbal manipulators and the fan case model. Through-Transmission and Pulse-Echo C-Scan results are displayed in real-time during data acquisition.
Innovative NDT Scanner Solution
The innovative Scan3D™ solution includes a high-precision custom 11-axis waterjet scanning solution with complete 3D surface following capabilities for accurate inspection and full UT waveform capture of the inspected Fan Case. The scanner consists of an 11-axis squiter system with two independently controlled X and Y carriages, two Z axes, two fully automated Gimbal/Gimbal manipulators and a high precision large diameter turntable. The system is fully controlled via a centralized system control station that included 3D data acquisition, data reporting and data analysis modules.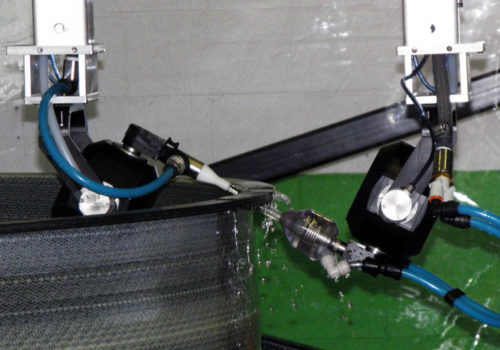 Advanced TecView™ 3D NDT Software
TecView™ 3D is an advanced NDT data acquisition and control software. It is designed to perform inspection of curved structure while keeping constant orientation and separation of the probe with regards to the structure. The basic contour following capabilities of TecView™ 3D is perfectly suited for extruded parts or similar structures, while the advanced 3D scanning is designed to permit automated inspection of more complex parts with a complete three-dimensional surface following. With TecView™ 3D the scan plan is generated using a CAD drawing of inspected parts enabling complex 3D contour following to be  performed.