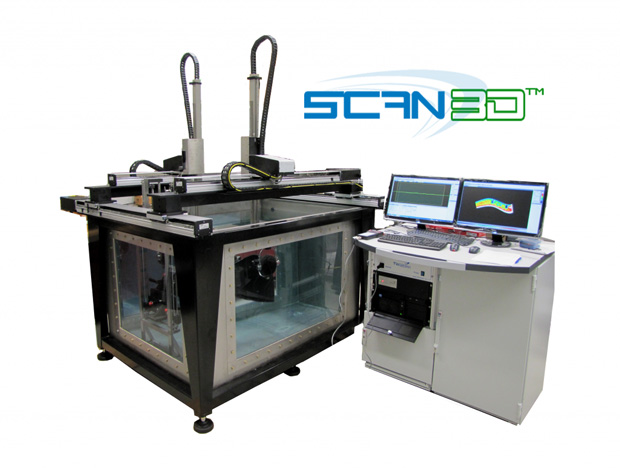 Scan3D™: 3D ULTRASONIC SCANNER
TecScan is proud to introduce Scan3D™, a family of High Precision Immersion Scanners. Scan3D™ revolutionizes the ultrasonic scanning process. The system includes industrial immersion tank,Gimbal/Gimbal assembly and TecView™3D.
When inspecting complex 3D parts whether in immersion or squirter configuration, advanced contour following and motion control schemes are required to reliably follow the part surface and acquire inspection data. With TecScan's Scan3D™, the scan-plans of the parts are directly imported from the CAD files and C-Scans are performed simultaneously in Through-Transmission and Pulse-Echo. Results are then displayed on the imported 3D model of the part for analysis.

Scan3D™ allows you to perform advanced contour following with arbitrary motion and following the shape of any curved part. The capabilities of this Immersion Scanner are numerous; users can combine the automated teach and learn with the imported 3D CAD of the part to generate scan-plans and perform complex 3D contour following. An optional Sound Path Calculation (SPC) module can be combined to the automated Teach and Learn capability. This module takes into consideration the physical properties of the part for through transmission scanning. It calculates the entry and exit points of the ultrasonic waves in the part and ensures an optimal sound transmission and reception to provide reliable, high quality scan data, especially in homogeneous materials.