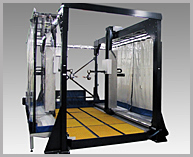 New Ultrasonic Squirter/Gantry Systems with two side-arms configuration, designed to perform 3D raster scanning of complex composite and metallic structures. The system is operated using our TecView™ 3D software package to perform all the required ultrasonic C-Scan testing.
Nondestructive Testing Solutions from TecScan
Innovative Nondestructive Testing, Ultrasonic Imaging & Motion Control Solutions
We provide nondestructive testing (NDT) Scanners, Immersion C-Scan Imaging Systems for MRO (Maintenance, Repair, and Overhaul) of aircraft systems and components, aerospace structures, power generation and industrial applications. Ultrasonic Testing, Phased Arrays, Time-Of-Flight-Diffraction (TOFD), Eddy Current and Pulsed Eddy Current technologies. Our products range from small hand-held NDT scanners to large automated in-line inspection systems and from laboratory ultrasonic immersion tanks to large squirter gantry systems. We offer Ultrasonic Immersion Tanks and Scanners, Ultrasonic Squirter/Gantry Systems, Table-Top Scanners, Eddy current Bearing Inspection Systems, Integrated Inspection Systems, Automated Portable Scanners, and Manual Inspection Scanners.
We focus on the military and civilian aerospace sector for corrosion, disbonds or cracks detection in Turbofans,Composite Fan Blade Inspection, Aircraft Components Testing, Composite Skin Structure Testing, Carbon/epoxy skin & aluminum honeycomb composites, Composite Adhesive‐bonded Component Inspection, Aircraft Multi‐Layered Aluminum Structures Inspection, corrosion, disbonds or cracks, customized nondestructive testing solutions and scanners are also available, and are designed to meet the client's specific needs.
We also offer a wide selection of NDT software programs, NDT pulser/receiver instruments and accessories that can increase the productivity of your NDT scanning systems. Gimbal/Gimbal & Swivel/Gimbal assemblies, Turn-Tables and Bar Stock Indexers.  For cost effectiveness, we could retrofit your existing NDT systems and update your workstation control equipment.
News & Headlines
TecScan introduces a new Squirter Gantry system with two side-arms configuration which is specially designed to perform 3D scanning of complex composite and metallic structures. The Gantry System is composed of an industrial mechanical scanner and a control workstation. …

Continue Reading
TecScan is proud to introduce Scan3D™, a family of High Precision Immersion Scanners. Scan3D™ revolutionizes the ultrasonic scanning process. The system includes industrial immersion tank,Gimbal/Gimbal assembly and TecView™3D. When inspecting complex 3D parts whether in immersion or squirter configuration, advanced …

Continue Reading
A revolutionary Composite Fan Blades Immersion Scanner designed and manufactured by TecScan. The scanner uses TecView 3D which includes an advanced set of interactive software tools, 3D motion control module and a part entry module. This innovative Ultrasonic Testing solution allows the user to perform advanced blade inspection for disbonds and/or fiber damage using 3D contour following with arbitrary scanning motions on the curved sections of the blade.
Upcoming Events
Charleston, South Carolina, USA,  Oct 27-30, 2014
Minneapolis, Minnesota, USA, Mar 24-27, 2014